When KFC customers purchase the Gamer Box they will score in-game finger lickin' good loot straight from the Colonel's kitchen. The rewards include up to six battle cosmetics in KFC's signature red and white brand colours and inspired by KFC's craveable tastes, allowing PUBG: BATTLEGROUNDS and PUBG MOBILE gamers to indulge all their senses. Players will also experience exciting KFC in-game visuals and digital experiences.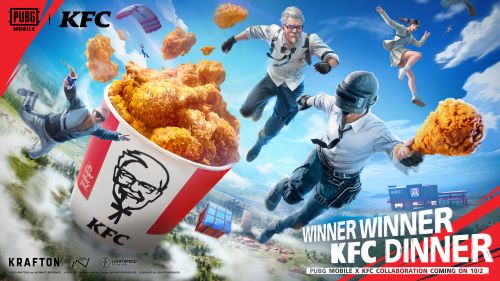 In addition to these tasty in-game treats, players can savour the flavour and experience the collaboration in the real world. Fans can "Load up, Dive in" and order at participating KFC restaurants, on the KFC app or via KFC.com.my to enjoy the special Gamer Box which includes a Zinger Burger, one chicken, one fries (M), one 6pc O.R. Nuggets, one Coleslaw (s) and one Drink.
"We are the pros when it comes to making the world's most finger lickin' good fried chicken and delivering on the taste you crave. Now PUBG: BATTLEGROUNDS and PUBG MOBILE fans can enjoy the iconic KFC taste like never before then dive into a battle royale and score big loot for a double taste of victory"

Premnath Unnikrishnan, KFC Malaysia's Chief Marketing Officer
For a limited time during this collaboration, PUBG MOBILE players can look forward to indulging their senses with virtual dining experiences in KFC Royale Restaurants across the Erangel, Miramar, Nusa, and Livik maps. These in-game KFC restaurants will offer players the opportunity to feast on mouthwatering KFC delicacies, each with their own distinct health or energy boosts, to help them take home the win. Players will also be able to gear up in KFC themed items including the KFC Royale Colonel Set, Chicken Champ Cover and Set, Royale Delight Top and Parachute, Seasoned Squad Graffiti, and Crispy Crunch Avatar Frame.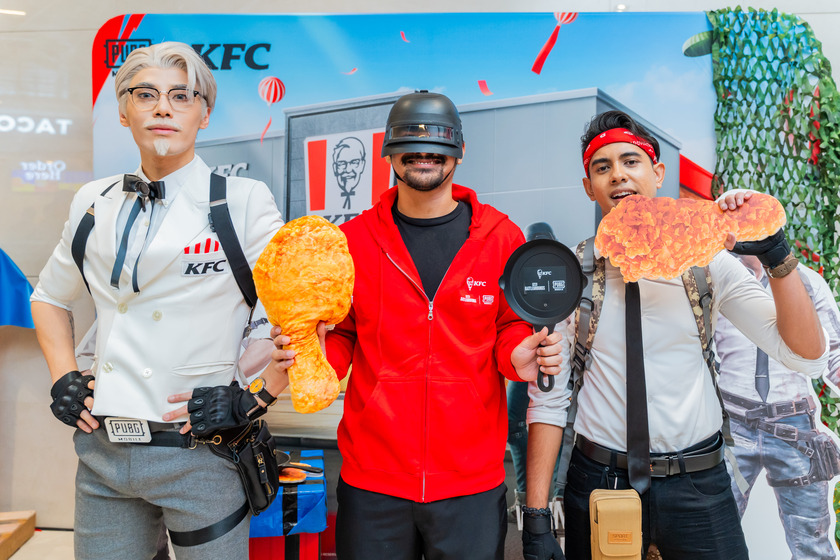 While PUBG: BATTLEGROUNDS players will have the exciting opportunity to acquire KFC-themed in-game items and encounter KFC restaurants on the Erangel map. Inside these KFC restaurants, players can explore a variety of themed items available at the kiosks, including the KFC Chicken Box, KFC French Fries, and KFC Energy Drink – each offering health benefits. Game gear, wins and accessories include KFC themed Colonel's Bucket Hat, Colonel's Jacket, Colonel's Shorts, Colonel's Clogs, Colonel's Parachute, and "It's Finger Lickin' Good" Spray. Players will also be exposed to crave-worthy KFC in-game visuals such as the statue of Colonel Sanders, kiosks issuing health benefits, plane banners, electric billboards, and map decals.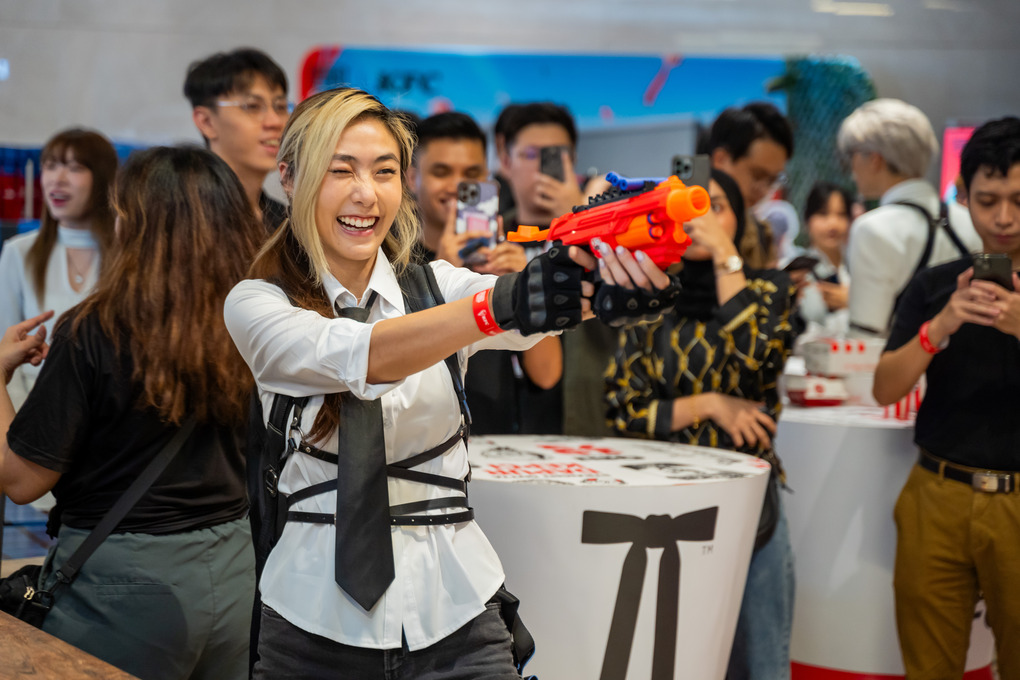 "This partnership delivers an exhilarating gaming experience where players land, loot, and survive while enjoying exclusive cosmetics. It ensures that players savour a finger lickin' good taste of victory, perfectly blending the worlds of KFC and PUBG: BATTLEGROUNDS" .

Taeseok Jang, PUBG: BATTLEGROUNDS, PUBG STUDIOS Executive Producer
"PUBG MOBILE is thrilled to partner with KFC, the internationally renowned restaurant brand. As one of the biggest mobile games in the world, PUBG MOBILE is committed to bringing quality gameplay to people on the move, just like KFC brings great food to people in thousands of locations globally. We can't wait for KFC customers to experience diving into PUBG MOBILE and securing that chicken dinner" .

Vincent Wang, PUBG MOBILE Publishing, Tencent Games Head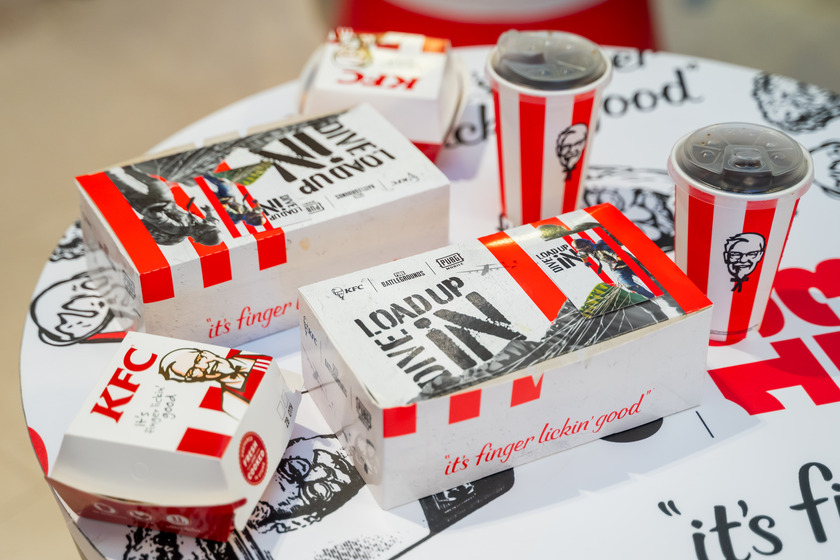 Each Gamer Box includes a voucher code to enter on the special KFC X PUBG site, accessed via QR codes in-store or on vouchers. Once on kfcxpubg.com users will redeem their vouchers to receive PUBG: BATTLEGROUNDS codes for in-game rewards on PC and console or PUBG MOBILE codes to redeem via their mobile device.**
The PUBG MOBILE virtual dining experiences will be available from 2nd October 2023 until 6th November 2023. Download PUBG MOBILE for free on the App Store and Google Play Store.
For more information on in-game updates visit the PUBG MOBILE website.
The PUBG: BATTLEGROUNDS KFC restaurants and KFC-themed in-game items are available from 11th October 2023 to 7th November 2023 on PC and from 19th October 2023 to 15th November 2023 on consoles.
For the latest information on PUBG: BATTLEGROUNDS, please visit https://pubg.com/en-na or follow the official social media channels (Twitter / Instagram / Facebook / TikTok).
*Promotion is only available in participating markets. Must purchase PUBG: BATTLEGROUNDS meal between 11 October 2023 and 7 November 2023 in-store, online or through the KFC app, as applicable. While supplies last. Cancelled order not eligible. Prices, participation, and meal items may vary. Mobile ordering and delivery are available at participating locations. Tax, tips, fees extra
**PUBG: BATTLEGROUNDS or PUBG MOBILE account required for in-game rewards. PUBG: BATTLEGROUNDS is a free-to-play game available for PC, Xbox, and PlayStation. PUBG MOBILE is available on mobile devices. The game is recommended for audiences 16 years of age and older on PC and console, with a 12+ rating for the mobile version. Children under 16 years of age playing on PC or console and those under 12 years playing on mobile, should have parental advisory.
For more information, please visit:
the official PUBG MOBILE social channels on Facebook, Instagram, Twitter and YouTube