KUALA LUMPUR, 28 SEPTEMBER 2020 – In honour of Colonel Sanders' 130th birthday, KFC celebrated this symbolic milestone through a yearly tradition of giving, known as 'Acts of Colonel- ness'. Bringing this campaign to life, KFC challenged its teams in more than 135+ countries around the world to commit to doing 130,000 acts of kindness in their local communities throughout the month of September.
Celebrating this milestone together, KFC Malaysia embarked on its own kindness movement, called 'Extend-A-Heart' where KFC staff delivered satisfying KFC meals to more than 6,500 underprivileged and deserving individuals, touching 23 communities across Selangor and Kuala Lumpur as well as 29 charity homes and orphanages nationwide. Through 'Extend-A-Heart', KFC distributed over RM 39,725 worth of meals to these communities.
As a brand that has made a home in Malaysia for 47 years and counting, Malaysians have played a part in defining KFC as much as the brand has been a part of their lives. With kindness as a key defining trait of Malaysians, KFC adopted this positive outlook and integrated kindness into its values, not only as an organisation but also how it operates in Malaysia – going beyond just offering satisfying meals.
"KFC is driven by a heart-led culture, grounded in the Colonel's original values of kindness and local community outreach. In the spirit of our founder, we are pleased to continue to do our part by giving back to the community in which we serve; especially to those less fortunate in our midst. 'Extend-A-Heart' is our way of showing we care, as kindness truly matters." said Angelina Villanueva, Chief Marketing Officer of KFC Malaysia.
Through 'Extend-A-Heart', KFC mobilised its teams across Malaysia to deliver happiness in the form of delicious KFC meals to treat underprivileged individuals and underserved communities around them. Some of the beneficiaries include TAMAN DIDIKAN KANAK-KANAK KURANG UPAYA, SEMBULAN, RUMAH AMAL CAHAYA TENGKU AMPUAN RAHIMAH (RACTAR), PERSATUAN KEBAJIKAN ANAK YATIM ISLAM, PROGRAM PERUMAHAN RAKYAT TERMISKIN (PPRT) and low-cost housing areas among others.
Over the last few months since the COVID-19 pandemic, QSR Brands which operates KFC in Malaysia also stood by frontliners and the underserved communities by providing hygienic and
fresh food for them. Since the enactment of the Movement Control Order on 18 March 2020, QSR Brands has distributed over 36,000 meal packs worth over RM 392,650 to these communities.
Looking ahead, KFC Malaysia will continue to play an active role in 'Acts of Colonel-ness' and honour the legacy of Colonel Sanders and celebrate the life he lived to the fullest. KFC strives to bring the local community closer, regardless of background, by staying true to their word and providing Malaysians extraordinary meals and great memories, while spreading love and joy to Malaysians and people all around the world.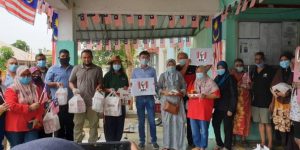 Location: Pangsapuri Taman Enggang, Puchong
A total of 8 KFC outlets in Selangor has extended KFC meals to over 480 individuals in Pangsapuri Taman Enggang, Puchong.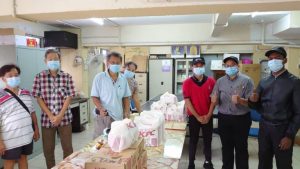 Location: PPR Sri Terengganu, Sentul
In conjunction with Colonel Sanders would-be 130th birthday, KFC staff from Kuala Lumpur outlets delivered KFC meals to more than 180 deserving individuals at PPR Sri Terengganu, Sentul.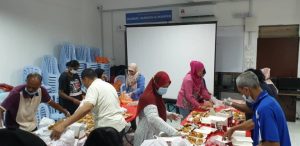 Location: Flat Desa Mentari, Petaling Jaya
Flat Desa Mentari residents working together in their community space to distribute KFC meals extended by 10 KFC outlets in Selangor to more than 600 underpriviledged individuals.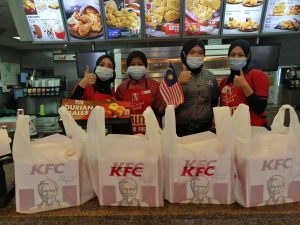 Location: KFC Aman Puri, Kepong
KFC staff from Aman Puri, Kepong outlet prepared KFC meals for more than 180 PPR Pekan Kepong Setia residents.